In May 2015, CND released the long-anticipated LED Lamp to cure Shellac. The lamp said can cut the curing time in half and can cure Shellac and Brisa.
CND LED Lamp Features
The CND LED Lamp utilizes 3C (Complete Chromatic Cure) Technology to optimize light, time and energy for maximum shine and lasting durability across a full spectrum of colors. It shows from the design and setting.
The lamp is round and lighter. It's more open. You can see inside from front or back side.  It's acetone resistant. No sliding tray as the lamp is quite open; thus allowing the foot to go in freely.
Some great features are:
Targeted exposure to the nail bed area where you want to cure the polish, not all over the hand. There are 5 LED bulbs right on top and 2 bulbs on the right and left for the thumbs.
Easy-to-use preset controls for each service step.  There are 1 power switch (on the side) and 4 buttons for curing: 1, 2B, 2S and 3. See photo below for details.
Halved curing time: 10 seconds for all CND Base Coats, but only 60 seconds for CND Shellac Color coat, for all Brisa Gels and for all the curable CND Top Coats
Alignment guides for proper hand/foot placement on the surface base, making it easier to place fingers for targeted cure.
CND LED Lamp Vs Current UV Lamp
For starter, the look and design are totally different from CND UV Lamp. The CND LED Lamp has a round shape surrounding the hand. It's smaller and lighter, which is about 1.7 lbs. Dimension is 8.3″x 8.2″x 4″.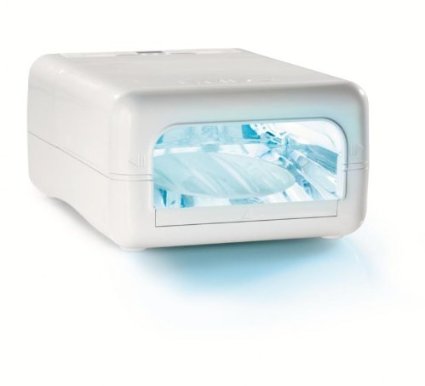 Compare to the original UV Lamp, the CND LED Light design has some interesting features such as:
Uniform drying
Cures in half the time compared to CND UV Lamp
The same 1 year warranty
No bulb replacement. Each LED light will last up to 10,000 hours.
No assembly required compared to CND UV Lamp, which you have to open and plug in all the bulbs before using it.
Removable power cord (the lamp we have comes with US plug)
It accepts 100-240V AC, 50/60Hz (thumbs up for this)
Power consumption max is 36 Watts
There are only 4 buttons compare to 8 at UV Lamp
Curing Time
What I found interesting with CND LED Lamp is that when you press the "1" button for curing base coat, instead of beaming continuously, the lights will pulse (turn on then off) 5 times for total 10 seconds before turning off. So don't be alarmed if you see the lights are pulsing and yes, your lamp works fine. The pulsing also happens when you press "3" for curing top coat. It will pulse for couple times before lighting continuously.  No pulsing when you press button "2B" or "2S".
To see a video review of CND LED Lamp, check out this video from LiverpoolLashes.
CND LED Lamp is now available at Esther's Nail Center for $239 (at the time of writing). Shop now!
So what do you think about the new CND LED Lamp? Do you have any comment or questions? Just leave your comment below.