Adorée African Violet is super sheer, this swatch is 4 coats. I couldn't get good pictures of the duochromatic effect but it is visible despite the sheerness. This color by itself with no colored base creates a greenish cast at some angles. It's very pretty and seems to be a distant cousin of the coveted OPI Sugarplum Yum. Ultimately, due to my preference for opacity, this African Violet is probably not something that I would wear on its own but it's a great color for layering.
Now, *this* is more like it. African Violet over black create amazing colors. African Violet over black is dark purple .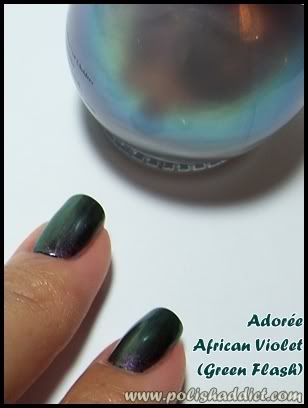 The swatch above is a representative of the green end of the chromatic spectrum.
Adoree nail polish is available at Esther's Nail Center (www.esthersnc.com). Review done by Stephanie from PolishAddict
blog.